Travel Notes on Hong Kong
This was a place I always wanted to live. Brimming with people and activity, this was where I could work, party at night, eat everything from high end to local affordable foods while being able to escape into the natural habitat just outside the city limits, an area untraveled by most tourists.
Arriving
---
If you're staying in the main parts, either Hong Kong Island or Kowloon, you can take the Airport Express, a high speed train. It takes about 28 minutes to get into the city, depending on where you're staying. It costs more then the local buses but it'll get you in faster. Though you'll need to transfer to the local MRT or taxi to get to your hotel. Still I use the Airport Express all the time.
Check the schedule if you're arriving at odd times.
The Hong Kong Airport (HKG) does have free wifi.
For touring US Citizens, there are no Visa requirements and you're allowed to stay up to 90 days.
Transportation
---
The transit system is pretty damn efficient. You have multiple options to get you around town, though you may have issues with drivers that don't speak English.
MTR
This is the local subway system. It's very fast system and the trains run very frequently. If you're in the main tourist areas you won't need to wait for more then 5 minutes for the next train. Do note, the train can get pretty crowded and not everyone lines up.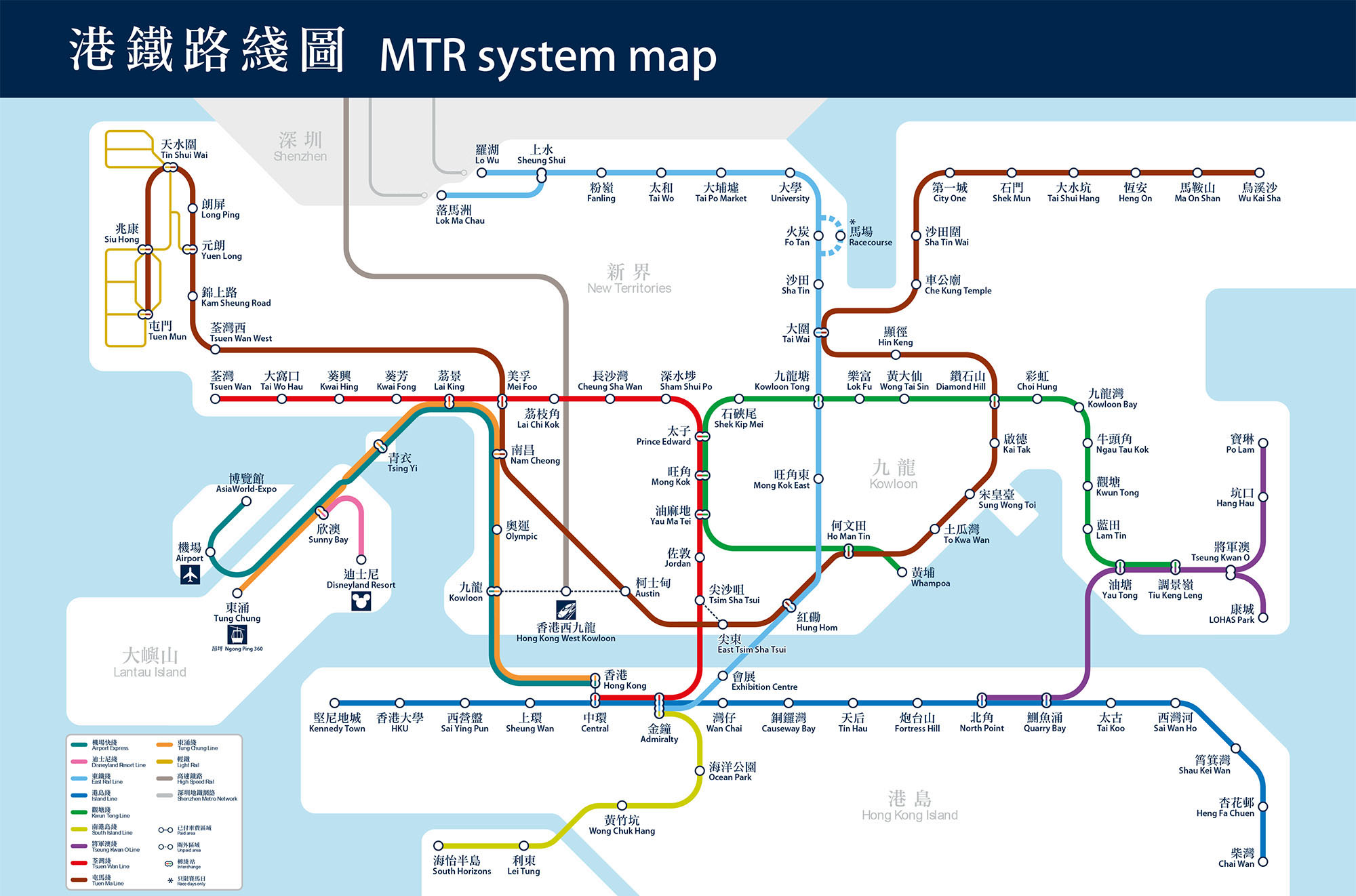 The most recent map can be found at http://www.mtr.com.hk/en/customer/services/system_map.html.
Think about getting the Octopus Card. It's a money card you can get at any MRT station. It's a $10HKD refundable card you top up with funds for you to use the MRT.
No need to buy tickets every time you use the subway! Just scan and it automatically deducts.
You can use it at all major convenient stores, like 7-11.
You can use it on the bus.
You can use it at the local fast food chains.
You don't have to worry about change
Look for the Octopus scanner at the register.
And guess what, you can use it for the Victoria Peak tram and bypass the ridiculously long ticket line!
Taxi
You will see so many around town. It's the best way for you to get to specific spots around town if the MRT can't get there or you just want to arrive faster without dealing with crowds.
You may have a language barrier, though they know popular destinations. Best to bring a written name or address.
There are a lot of one way roads and it may appear the driver is taking the long way, but they aren't.
Late at night, to cross from Hong Kong Island to Kowloon, you'll need to take a specially marked cab. And they do charge more.
Bus
You may need to take the bus to get to say, the other side of the island or into the New Territories. You can always take the taxi too. But if you have time and want to save money, the bus would be your option. Check their routes on http://www.nwstbus.com.hk/.
Eating
---
So you're probably looking for a list of places to eat. Here's a good starting list:
Must Try Foods
Every time someone mentions they are going to Hong Kong, these foods come to mind and I'm left in salivating jealousy. Sure, you may be able to find this in other cities, but the way these are prepared in Hong Kong, make it Hong Kong. I say you have to try two things:

Spicy Garlic Crab
Like garlic, like mounds of it? Try it with a huge crab stir fried to perfection. Do order other items to fill you up, but make sure you don't skimp out on the crab itself. Get a big one, enough to share, or, all to yourself. Just make sure you have tons of breath mints afterwards. Here are some popular places for this:
Under the Bridge map
They have a couple restaurants along this street. Do look carefully because there are many competitors trying to cash in on the name. Can't imagine they're any good if they need to try and copy the name. Stick to the original.
Jumbo Floating Restaurant map
A bit difficult to get to. You'll need to know the bus route or take a taxi. This place is more about extravagance. It's a boat restaurant lit up with beautiful lights at night. Inside, the decor is fine dining Hong Kong style. They are also known for their seafood dishes. Give those a try though their prices are on the high side. Still, their spicy garlic crab is legit.
Dim Sum
Most places don't do the cart thing any more. Items are ordered from a menu and brought out to you. There is a famous one that still does, but it's pretty much a mad house. I guess it's always a mad house at good dim sum places. Go early on the weekend if you don't want the extra stress. Otherwise, try the weekdays. Check the hours of operation.
Crystal Jade map
A higher end establishment where the food is good and the service is great. As for the line up system, you pick a number based on the size of your party. They'll have a monitor giving you a good estimate of when your group will be called. So, go shopping!
Lin Heung Tea House map
One of the few remaining cart pushing places that's for the adventurous and for someone who knows the language and culture. It's communal seating and the wild west when it comes to ordering. Sometimes you'll find yourself chasing people down. This is local old school.
Tim Ho Wan map
This is actually a Michelin Star restaurant. A place that won't break your bank but is of course, listed in every tourist magazine. Expect lots of tourists. The walk up seating is done by hand. You'll get a handwritten number and the hosts will work on getting you a table. It's a bit chaotic and unorganized. However, you can't beat the price here.
Eating on a Dime
Whether you're on a budget or want to sample what people eat dat to day, finding the local cheap eats is the way to go. It doesn't necessarily mean it'll taste cheap. On the contrary. There are some cheap eats that are very good. You can find them along Temple Street, Hong Kong's night market area, or all over town in fast food chains.
Supreme Beef Brisket Soup map
So simple but yet so good. Get the beef brisket soup with rice and you got yourself a very local meal. Yeah I know, it may be hot as hell outside but sit inside and enjoy the AC with your lunch/dinner/second dinner. This stuff is amazingly good and a great closer after walking around the night market all day.
Four Seasons Claypot Rice map
Just to clear it up, no, it's in no relation to the hotel. But this is something to try. You pick your proteins and they fire up the pots. Within 10 minutes you have yourself a steaming pot you'll most likely not share with your friends. And in the end, you get to eat the crispy rice that's formed on the side of the pot. As a kid, this was my favorite part.
Katong Laksa map
Don't let the lines deter you. The laksa here is very good. And if you're impatient, go during off peak hours. I usually get everything in it. If you don't like some of the items, like the fish balls or tofu, I'd recommend to get at least some prawns. The flavor go so well with that curry milk broth. Take your time because the soup will be hot.
Finer Dining
Last but not least are all the places that make Hong Kong, well, a culinary talent magnet. You'll get some of the big name chefs and restaurants chains from around Asia. And don't think chain restaurants are a bad thing. They are none of the sort here in Hong Kong. Quality is their focus. It has to be or they won't last. Here are a handful that won't break the bank.
Din Tai Fung map
Taiwan's global franchise for Xiao Lung Bao, those wonderfully delicate soup dumplings. If you've never tried this, seek this place out! There's several of them around Hong Kong. And pay attention to the service. One of the best you'll find in the city. But if you tried this place in other countries, you can expect that they duplicated the tastes perfectly.
Ippudo map
An international ramen chain from Japan. They serve up some fantastic bowls of ramen. Just avoid prime times. It's definitely not as crazy crowded as the ones in New York City, but can get quite busy. You're just fortunate that this city has so many restaurants that people don't mind waiting lines for. Oh, get the Scottish Egg as a side dish. It's pretty damn good.
Here's a place I've been meaning to go to. One of the sushi places you'll need to make reservations way in advance. I tried to go given all the locals raving about this place over all the other Michelin Star rated sushi venues. If you do get a seat, be prepared to shell out plenty for the omakaze. You'll understand why people say it would be cheaper to fly to Japan and have sushi.
If you want more places, check out The Eater Hong Kong Heatmap: Where to Eat Right Now
Hope these notes help in some way. Feel free to comment and/or pass this on. And check back again because I'll be updating it every time I head back to the city that started my journeys.
Where to Stay
---
If you want several modes of transportation available to you, I'd recommend staying near an MRT station on Hong Kong Island and around the Southern stations on the Kowloon side. Those will put you in the liveliest of areas and of course will cost more. Be prepared for traffic and pedestrian congestion. Though that's the life of Hong Kong. On my trips I usually stay around:
Central – Here's the expat scene. High end shops, restaurants, and hotels litter all over the area. This would be the night life scene for business men and women heading out to happy hour or for a night in a club. Probably the only place you'll see people from all around the world congregate. And most likely they're around Lan Kwai Fong.
Tsim Sha Tsui – Another white collar area but a lot less expats roaming this area. Though you may have a more difficult time finding the trendy spots as I'd like to think the spots cater more to the high end locals. Still, you should check it out. And if you're bored, a short cab ride will take you to some wonderful food on Temple Street.
I haven't stayed outside the main downtown areas. So if you're looking for a more peaceful side of Hong Kong, I can't help you here. I only head out to the natural parts on rare occasions. Like when I need to unwind from the high paced city.
Hope this guide serves you well. All comments and suggestions are welcomed to make these notes better.
Good luck out there!